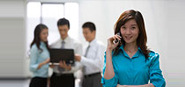 Dongguan Kingrui Precision Mold Co.
24-hour hotline: 400-0769-391

Phone: 0769-82663318
E-mail: kingruizhao@kingmold.com
Address: Building A No.9 Xinxing Road, Shatou Southern District, Chang'an Town, Dongguan, China
High precision mold processing efficiency and integrity
Article source:
Published time:2016-03-30 14:21:23
Precision tooling and integrity compromise, which we do not expect to see. UG has a unified solution with a single user interface, data structures, tight integration enables model interoperability, relevance, to make design changes to give rapid response, can handle complex models, direct processing scan data to support parallel project. Therefore greatly enhance the production efficiency. Understanding of high-speed machining, as well as some experience in practical work, personally think that the high-speed machining security is paramount. Summing up the above experience we usually can be seen in the high-efficiency production of high-quality security, UG as our trusted software, we are always able to meet the various needs of high-speed machining, and are suitable for a wide range of processing environment brought greater benefits for our production.
Affect the quality and stability of high-speed precision machining mold processing speed is undoubtedly significant, and UG is a CAD \\ CAM integration software, has a single data source, and relevant, which fundamentally eliminate effect on the accuracy of the data exchange. Usually it consists of a CAD system design, and then switch to another CAD system to complement the design and preparation process. Each time data transmission, we need to geometry conversion from one format to another format, often at the expense of reduced precision. Some CAM software also must be converted into a solid surface, bringing even surface damage and loss.