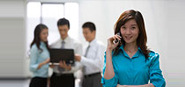 Dongguan Kingrui Precision Mold Co.
24-hour hotline: 400-0769-391

Phone: 0769-82663318
E-mail: kingruizhao@kingmold.com
Address: Building A No.9 Xinxing Road, Shatou Southern District, Chang'an Town, Dongguan, China
How to determine the size of the mold!
Article source:
Published time:2016-03-30 14:32:20
(1) The die size and tighten the screws
The template size should be larger than the work area, and choose the standard template size. Locking screw location template allocation and types of mold and template size. Wherein the single most commonly used engineering mold locking screw configuration in the four corners, the most standard form the majority of the work area can be used. The continuous elongated mold and mold most commonly used locking screw configuration in the four corners and the middle position.
(2) The thickness of the template
Construction and mold thickness selection of templates, punching type, punching processing power, precision stamping absolute relationship. Based on theoretical calculations determine the thickness of the mold is difficult, generally on the line determined by the experience, the type of stencil thickness should be designed to use as little as possible, with the mold height and clamping height is standardized to facilitate the procurement and inventory management.
Precision machining, precision wire cutting, coordinate jig grinders