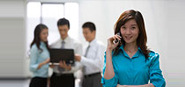 Dongguan Kingrui Precision Mold Co.
24-hour hotline: 400-0769-391

Phone: 0769-82663318
E-mail: kingruizhao@kingmold.com
Address: Building A No.9 Xinxing Road, Shatou Southern District, Chang'an Town, Dongguan, China
How to design a template?
Article source:
Published time:2016-03-30 14:33:21
The main template has a continuous mold punch fixing plate, pressure plate, mother templates, and so, according to its structural design of precision stamping products, the number of production, processing equipment and processing methods mold, mold maintenance, the following three methods in the form of: (1) monolithic, (2) yoke, (3) insert type.
1. Monolithic
Templates also known as one monolithic structure type, the processing shape must be closed. Monolithic structure or template is mainly used for simple high-precision molds, cutting its processing manner based (without heat treatment), heat treatment using the template must be implemented or wire cutting electrical discharge machining and grinding. Template size long (continuous mold) will use the occasion of two or more integrated with it.
2. Yoke
Central processing unit Yoke template of a concave groove shape to assemble the massive product. Configured according to the application requirements, the concave groove portion may be constituted of other templates. The advantage of this type yoke structure of the template are: groove easily processed, groove width can be adjusted, the precision and so good. But its disadvantage is the low rigidity.
Precision machining, precision wire cutting, coordinate jig grinders