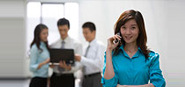 Dongguan Kingrui Precision Mold Co.
24-hour hotline: 400-0769-391

Phone: 0769-82663318
E-mail: kingruizhao@kingmold.com
Address: Building A No.9 Xinxing Road, Shatou Southern District, Chang'an Town, Dongguan, China
Precision machining process requirements
Article source:
Published time:2016-03-30 14:47:25
Precision molds processing machinery mold is an enterprise of the most effective way, it compared the traditional process, which uses a workpiece chucking reduce the number of steps and procedures, in addition to maintaining the orientation, a perfect process. However, in order to ensure the precision tooling, improve the quality of production and reduce production costs, it has a strong oxidation resistance, but also exhibits the following characteristics:
First, there is a certain lower deformation resistance, temperature range of a certain magnitude.
Second, cutting than the larger, relatively low degree of wear, low surface roughness processing
Third, the quality requirements of the grinding wheel and cooling environment is unstable and prone to damage and cracks.
Fourth, quenching high surface strength and balanced.